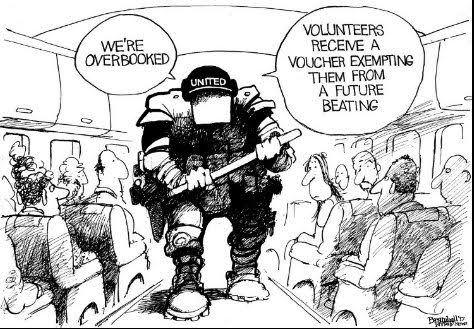 I don't like liars.
And I especially don't like liars who use lies to cover their abuse of people.
So let's talk about United Airlines.
Let's also talk about the spineless, dishonest, lazy, Big Business ass-kissing US news media.
What actually happened and why it's much worse than the news media reports
Unless you are blissfully (and wisely) disconnected from the news, you know that a few days ago a passenger was pulled off a United flight in Chicago bound for Louisville, Kentucky.
Several passengers filmed the event. The passenger was physically assaulted in a particularly brutal way.
In his first public statement about the episode United's CEO Oscar Muñoz said: "I apologize for having to re-accommodate these customers."
Before this, the Chicago Police Department – which was not involved in this case in any way and hadn't even sent an officer to investigate – issued this statement which the idiot news media ran with as gospel:
"At approximately 6:00 p.m., A 69-year-old male Asian airline passenger became irate after he was asked to disembark from a flight that was oversold. The passenger in question began yelling to voice his displeasure at which point Aviation Police were summoned. Aviation Officers arrived on scene attempted to carry the individual off of the flight when he fell. His head subsequently struck an armrest causing injuries to his face. The man was taken to Lutheran General Hospital with non-life threatening injuries. Ongoing investigation."
United said the law allows them to bump passengers from overbooked flights and that they asked him to leave in order for the plane to depart and he was the only one of the four passengers asked to refuse.
Great story…but none of it is true.
Three whopping lies
Lie #1: The flight was overbooked with paying passengers
No it wasn't. There were enough seats for paying passengers.
In reality, United wanted to shoehorn four employees at the last minute onto the plane for its own purposes.
In fact, it now appears these four weren't even United employees. They may have been employees of a "partner airline" they wanted to extend a courtesy to.
Update: United finally admitted this fact. THREE days later.
Lie #2: The passenger had a legal obligation to leave the plane.
Wrong. Once you are boarded and seated that seat is yours. Period.
It is true that by law you can be denied boarding a flight you paid for because of "overbooking."
However, the law does not allow a paying passenger to be removed from a flight after he has been allowed to board the plane.
Read the previous sentence again in case you missed it.
Here's the law: http://lawnewz.com/high-profile/united-cites-wrong-rule-for-illegally-de-boarding-passenger/
United flat out lied.
First to its customers – and then to the public.
In fact when United went through the pantomime of "selecting" boarded passengers to leave the plane they were running a scam on their customers.
None of the boarded passengers had any obligation to leave the plane.
Lie #3: "…He fell. His head subsequently struck an armrest causing injuries to his face."
This statement is from the highly suspect Chicago Police Department report.
It's a well known principle among "violence professionals" that a sharp blow to the head will quiet many people down either by dazing them or knocking them out cold.
It's a further principle that it's infinitely better to use a handy immovable surface like a wall, the floor – or say the arm rest of an airline seat – to accomplish this. You won't break your hand and when you slam someone's head into an immovable object, the immovable object "hits" harder than you ever can.
Every bouncer knows this. Every police officer knows this. Every professional street thug knows this.
Now, there's no way to tell for sure if Dao's head striking the arm rest was an accident or not, but I've looked at the video very closely with a trained eye and if I were a betting man, I'd say the collision was no accident. It was tradecraft.
By the way – and this is grim and mostly unreported – there was so much blood on the plane, United had the passengers disembark so they could clean the plane before it flew to Lexington.
In summary: Here's what really happened – and note how it differs from the news media version
1. United wanted four of its employees on that plane and there were no seats for them
2. A United employee entered the plane and falsely stated that four people had to leave the plane
3. Four passengers – already boarded and seated – were supposedly selected at random
4. Contrary to inaccurate press reports, no one volunteered to leave the plane until after the assault
5.  One man, David Dao MD, a doctor with an active medical practice in Kentucky was singled out for forcible removal
He said he was a doctor and had patients to see the following day and therefore had a compelling reasons to get to his destination. He also objected to being the only person singled out for harassment
6. To repeat the fundamental in this case: United had ZERO legal authority to ask him or anyone else to leave the plane
7. United employees might well have misrepresented the situation to airport security by claiming – as the Chicago Police Department claimed with ZERO knowledge – that the man was unruly
8. In the process of removing Dao from the plane his head and face either accidentally hit the arm rest – or the "thumper" who they brought in after the first attempt to remove Dao failed deliberately slammed his head into the arm rest to shut him up
And then United lied and lied and lied…
In a private email to his employees, the CEO of United Oscar Muñoz called the man assaulted "disruptive and belligerent."
He then told his employees:
"I emphatically stand behind all of you, and I want to commend you for continuing to go above and beyond to ensure we fly right."
In his first message to the public, here's how he described the situation: "I apologize for having to re-accommodate these customers."
Re-accomodating?
United also managed to get some unflattering information about Dao about an unrelated event in his life over ten years ago into the news.
Apparently, it wasn't enough to be involved in an assault on a customer and then lie about it. United and a "journalist" and "editor" in Kentucky needed to smear him as well.
What are the lessons here?
As always, there are life lessons to be learned.
Lesson #1: Don't be that guy
Back your employees, yes, but that doesn't mean automatically back them all the time in everything they do.
Without any independent verification of what happened, United's CEO Oscar Muñoz was ready, willing, and able to lie about what actually happened.
Also, don't be the head of a company that treats its customers like s*** as a matter of policy.
No one who flies United was surprised by this event. It's just an extreme example of how United employees treat customers every day of the week.
Lesson #2: Don't believe anything you read in the news media or hear from an official source unless it is verified ten different ways
I'm not going to say every word out of the mouths of the news media and official sources is a lie – just 80% of it. (Sometimes they just get too tired to try to think up a good lie.)
Look how the news media botched the reporting of this story – with every point in favor of their advertiser and bill payer United Airlines.
They do this with everything.
They "report" in the interests of their advertisers. Not you.
Financial advice that if actually followed would bankrupt you. Medical advice that all but insures you stay sick forever while the medical monopoly grows ever more oppressive.
Lesson #3: The Internet needs to continue to fry people like Oscar Muñoz and companies like United – and that's a good thing
Most small business people I know are good, hard working people who strive to do the right thing every day, every minute of the day.
They – you – are truly the backbone of the nation and sometimes I think the only thing that keeps the country together.
Most business people don't like to criticize other business people, but there's an important distinction here:
Big Business is not business as we know it.  Many industries enjoy monopolistic power and with that power comes abuse.
The airline industry routinely abuses customers.
Big banks routinely abuse customers.
Big medicine routinely abuses customers.
And, most of the time, they get away with it. And even when they don't, the consequences are nothing.
Wells Fargo – Warren Buffet's favorite bank – used customer data to create 2 million fraudulent accounts and then billed people for "services" they didn't agree to. Other than a small fine and some of the crooks at the top having to give back some of the millions they stole, there were no consequences.
Imagine what would happen to you if you did that to just one customer?
Your customers know this stuff is going on and unfortunately, you are going to pay the price in terms of  a general and growing societal lack of trust in business.
So what can you do?
Back to Lesson #1: Don't be that guy
And don't hang around with "that guy" in your own industry, don't make excuses for him, and don't support his business with your hard earned money.
Fly United again?
No way – until CEO Oscar Muñoz and the employees who ran this scam and incited this violence are fired and/or are in orange jumpsuits.
– Ken McCarthy
P.S. For over 25 years I've been sharing the simple but powerful things that matter in business – and life – with my clients.
If you'd like direction for your business that will work today, tomorrow and twenty years from now, visit us at the System Club.
Save
Save
Save
Save
Save
Save
Save
Save
Save
Save