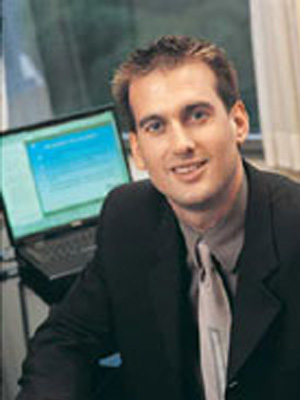 It was fourteen years ago today that one of the greatest, arguably the greatest, Internet marketing educator, Corey Rudl was taken away from us at the tragically young age of 35.
Corey was not only one of the very people first to grasp the direct response potential of the Internet, he was the first to put many of the things we think of as common practice into practice on a large scale. Like affiliate programs. Before Amazon did. And that's just the tip of the iceberg.
When Corey was 29, I sat down with him with a tape recorder (yes, it was that long ago) and got the remarkable story of his life up to that point.
I remember noticing that one of Corey's favorite words was "beautiful." And I can't think of a better way to describe his spirit. He was a shining light for all people who are willing to work hard to earn their independence.
Keep in mind that this interview was approximately 20 years ago and some things in Internet marketing have evolved, but the essence of Corey's approach would win today and not only on the Internet, but also in any positive thing you set out to do.
It's surprisingly hard to find large-sized pictures of Corey online which is a function of two things: 1) how long ago he past and 2) how he made the message, not himself, the important thing.
– Ken McCarthy
P.S. For over 25 years I've been sharing the simple but powerful things that matter in business – and life – with my clients.
If you'd like direction for your business that will work today, tomorrow and twenty years from now, visit us at the System Club.