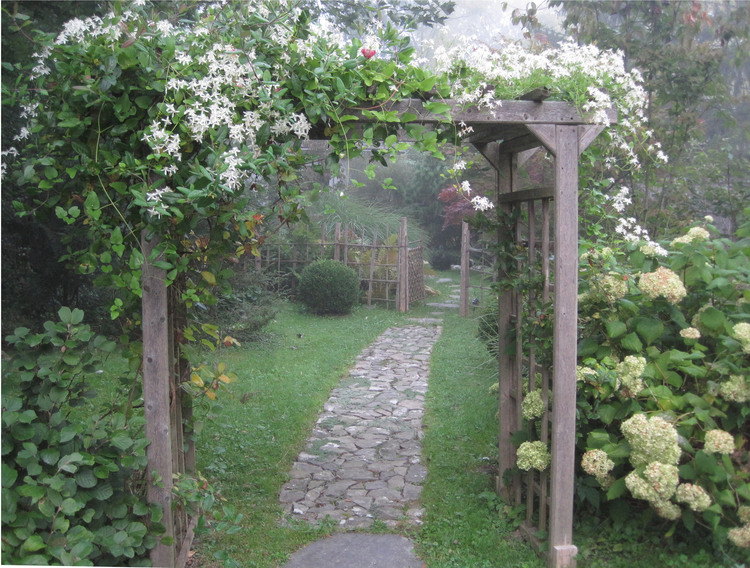 Long time System Seminar operations guru, Bettina Mueller "retired" four years ago.
I put "retired" in quotes because like lots of hard working people, the "doing-nothing" image of retirement doesn't fit how she's been using her time.
She's taken a lifelong interest and study of Japanese culture, a love of plants and gardening, and a passion for design and created an amazing garden in her backyard.
Then she photographed it (she's got decades of experience behind a camera and in darkrooms and now on Photoshop.)
Then she put the photos with text into a book which she designed and produced through her own publishing company, Tea House Press. You can look at the book here.
Then, being a good student of marketing – it's hard to hang around me and not pick something up! – she entered her garden in a contest sponsored by an online publication that has a big cult following among the "green thumb" set.
Entering the contest was one thing. Winning it was another thing altogether, especially when she discovered one of the competitors in her category had a pretty serious personal and professional network and was capable of generating votes by the thousands.
Wanting my good friend to win, I brushed off the old System Seminar playbook and rolled up my sleeves.
Here are the principles we used to win against a very able competitor. You can use every one of them in your business – regardless of what it is.
They're PURE SYSTEM.
---
P.S. For information about the upcoming Mike Marshall memorial conference.